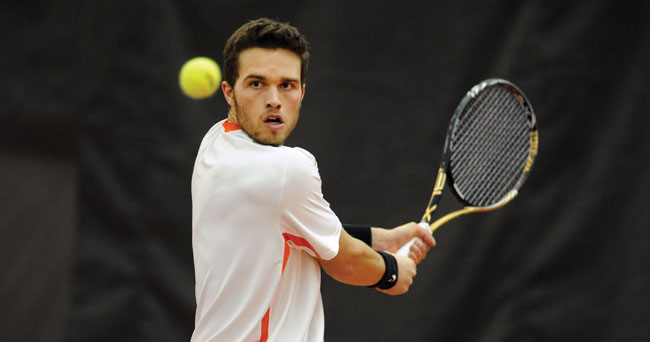 Amerigo Contini | Freshman | Parma, Italy
Becoming the first Tech player invited to the NCAA Singles Tennis Championship as a freshman and just the 14th overall made selecting Amerigo Contini to be the men's tennis athlete of the year as easy choice.
Contini finished the season ranked a team-high 67th nationally by the Intercollegiate Tennis Associate (ITA) as a men's singles player and was sixth in the Atlantic Region. His outstanding rookie campaign included being named the ACC's Freshman of the Year and all-conference after going 7-3 against ACC competition. He was also recognized as the ITA Atlantic Region Player to Watch.
He finished the season with a 28-12 overall record, which included a duals record of 16-7. He went 9-6 at the No. 1 singles flight and 7-1 at No. 2 flight. He also registered six wins this past year over nationally ranked opponents.
Contini teamed with classmate Andreas Bjerrehus to earn a doubles ranking of 37th in the nation and fourth in the region. The pair went 19-9 overall during the past year – 13-6 at the No. 1 flight – and was 5-7 against nationally ranked opponents.