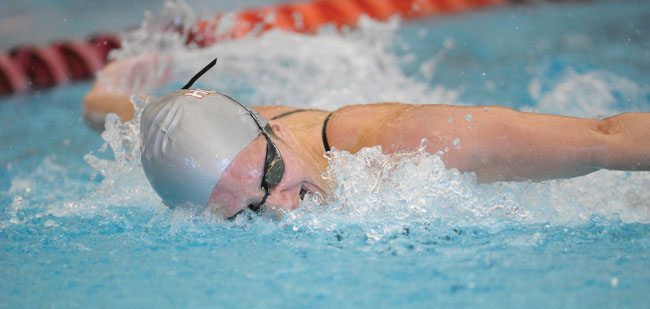 Heather Savage | Senior | Canandaigua, N.Y.
Of all the selections for individual athletes of the year, the choice for women's swimming and diving may have been the easiest. After all, Heather Savage enjoyed yet another sensational year and ranks among the greatest swimmers ever at Tech.
Savage earned All-America honors for the second straight year after finishing eighth in her specialty – the 100-yard butterfly – at the NCAA Championships, swimming the race in a time of 52.14 seconds. She went undefeated in the event this season, and she only lost five out of the 23 events in which she competed during her senior campaign.
Savage led the Tech women to a second-place finish at the ACC Championships held in Greensboro, N.C., this past February – the program's highest finish ever. She won five medals at the event, including a gold in the 100 butterfly and a gold as both a member of the 200 and 400 medley relay team. She took bronze in the 200 butterfly, setting a school record with a time of 1:56.54, and she participated in the 400 freestyle team that finished second.
Savage finished her career as the school record holder in both the 100 and 200 butterfly. She also holds the conference and the ACC Championship record in the 100 butterfly.
In addition, Savage got it done in the classroom during her time at Tech. In April, she was named the ACC's women's swimming and diving scholar-athlete of the year – the second time in which she has won the honor. She graduated with a degree in human nutrition, foods and exercise.