John Moody and Sharon Linkous have dedicated more than 80 years combined to helping Tech athletics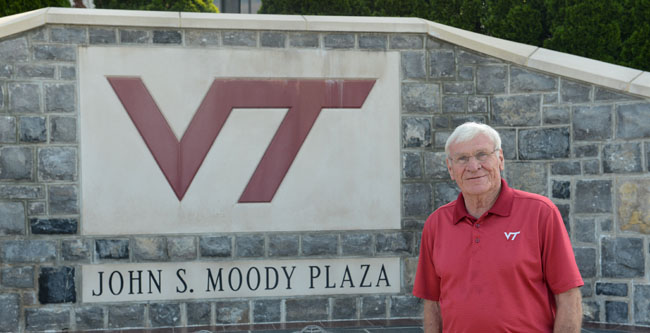 Usually as the spring months quickly fade into summer, Tech's coaches take inventory of their rosters. And in many cases, they lament the loss of veteran upperclassmen to the working world.
The same process can apply to other areas of athletics, and this summer, Lu Merritt, the "coach" of the Virginia Tech Athletic Fund (better known by Tech fans as the "Hokie Club"), is seeing a couple of experienced hands leave his team and call it a career.
John Moody, an associate director within the Hokie Club, and Sharon Linkous, an accountant within the club, both plan to retire after more than 40 years of helping raise money for Tech athletics. Moody will retire at the end of June; Linkous at the end of July. These two institutions will take 84 years of fundraising experience with them.
"To have them both walk out the door within a month of each other is a big, big loss," said Merritt, officially known as the senior director of development for intercollegiate athletics.
Moody and Linkous actually started their careers in the profession by working for what was then called the Virginia Tech Student Aid Association, an organization founded in the late 1940s to raise money for athletics scholarships. It morphed into the Virginia Tech Athletic Fund in 1989.
Starting in 1951, Mac McEver served as a part-time director of the club (he also coached) before becoming the full-time director in 1960. In 1970, McEver hired Linkous from the education department at Tech, where she had been working after she graduated from high school in 1969, to oversee the recordkeeping. That same year, he hired an assistant director named Jack Prater, a name familiar to most Tech fans. Prater played football at Tech and later coached at Tech.
Prater ended up leaving, moving into an administrative role under then football coach Charlie Coffey. So in 1972, McEver cornered Moody on Tech's football practice field one day and offered him the job. Moody, who was working for Jostens ring company at the time and visiting the area, decided to accept.
"When I started out after college, I made $3,600 to teach and then got an extra $300 to coach football and $300 to coach track at Norview High School (in Norfolk)," Moody said. "So I made $4,200. My wife was pregnant with our first child. We just couldn't make it financially. So I went into the business world. I didn't really like it. I was with Jostens, selling rings, and I was one of their top sellers. But I didn't like it.
"I came up here and was watching a football practice. McEver asked me if I'd like to have a job. I was doing well financially, but I just wasn't happy. I visited with my wife. Her parents lived here in Blacksburg, so we made the decision to come back – and it was one of the better decisions in my life."
Getting these two to talk about their accomplishments over the years was a more difficult chore than the one Tech's football team faces on Aug. 31. This publicity-shy tandem prefers to quietly slip off into the sunset and let others judge their career work.
For sure, they've enjoyed wonderful careers – those of the blue-ribbon variety. When Linkous started working in 1970, the club had 1,800 members. Today, the list is more than 10,000.
She has stayed in the background, inputting records and keeping them in tidy shape and printing reports at a moment's notice. She arrives at 7 every morning and has been known to take work home frequently. In sports vernacular, she serves as Merritt's "quarterback."
"I worked 24 years in the banking industry and 20 here, and her work ethic is the best I've seen," Merritt said. "She does so many things outside her job description, and I've been meeting with her just to try to get my arms around everything she does. She does a lot of little things that just add to the office in addition to her knowledge and experience."
Moody put Linkous' impact a little more succinctly.
"They can fill my seat easily," he said. "Hers is going to be a little more difficult."
Filling Moody's seat will not be an easy task either. Actually, Merritt tried to do that a few years ago when Moody retired. Fortunately, Moody decided to stay on in a part-time role.
Moody, a Richmond native, has played a prominent role in getting many of the organization's programs implemented. When he first started with the Virginia Tech Student Aid Association, he wasn't sure how to approach fundraising. So he decided to write a letter to alumni and other fans of the athletics programs, asking for a $10 donation. He received 393 responses and raised $6,420.50. Even today, he keeps those now yellowing responses in a drawer in his desk, a reminder to his humble roots.
Over the years, he took a lot of ideas from others and implemented them and made them even better. For example, he, Bill Matthews, Shannon Hardwick – the father of current Tech golf coach Jay Hardwick – and others took some donors to the Metro Conference baseball tournament in Tallahassee, Fla., one year, and on the way down, they played golf at several different courses. Hardwick later suggested taking the donors on a trip with the Tech golf team. So Moody got a group together to go to Pine Needles, N.C., with the golf team, which plays in a tournament there every year. The group hopped on the course right after the last group among Tech's golfers teed off.
One of the golfers later said, 'If we're Hokies, you all must be 'Hackin' Hokies.' Thus, the "Hackin' Hokies" were formed, and the group continues its annual trip with the golf team today. The excursion gives the Hokie Club a chance to solidified relationships with its donor base.
Later on, in the late 1980s, Mike Carroll, who served as the director of development for athletic programs at that time, saw a need to take a group of donors to the Homestead in Hot Springs, Va., and let them play golf with some of the coaches, again as a way to enhance the relationship between Tech and the donors. So Moody organized it. The group looked for a name, and someone said, "Well, we're Hackin' Hokies, too." So that group became Hackin' Hokies, Too, as a sort of play on words.
That trip continues today and serves as a fundraiser for various projects. The group has raised money for projects such as the clubhouse at the River Course, the baseball scoreboard, the scoreboard at the swimming facility and the flag plaza at Lane Stadium – which is named after Moody.
Carroll also wanted the club to come up with a volunteer program in which contributors would sign up others who expressed an interest in Tech athletics and the Hokie Club. At the time, NC State and Clemson used similar programs, and Moody researched those, thus playing a large role in establishing what is now the Hokie Rep program.
Of course, none of that takes into account all his trips around the state, visiting with potential contributors, shaking hands, establishing relationships and convincing them to give some of their hard-earned money to aid Tech athletics. Moody's deep, genuine laugh and easygoing disposition make him a natural for fundraising. He gravitates toward people – and they gravitate toward him.
Partly because of that and partly because of his contributions to Tech athletics – and not just monetarily – Moody has been inducted into both the Richmond Hokie Club Hall of Fame and the Virginia Tech Sports Hall of Fame. He also has a scholarship endowed in his honor, and the top Hokie Rep with the most growth in members annually gets the John S. Moody Award.
"John has been a good friend and a good mentor," Merritt said. "He has a simple, common-sense approach to things, which I like and respect. He communicates with people, he listens to them and he stays in touch. John has become good friends with so many people, but it's because he builds a solid, genuine relationship with them."
In the end, those relationships pay off. One time, back in the early 1990s, the Blacksburg High School girls' basketball team was heading to Grundy, Va., for a regional basketball game against Grundy High School. Moody called a good friend – and well heeled – contributor in Grundy, and the two discussed the upcoming game. The contributor thought Grundy would win. Moody thought otherwise. They ended up wagering $5 on the game.
Moody lost the bet, as Grundy defeated Blacksburg. So he found five of the oldest, most crumpled $1 bills that he could find and mailed them to his friend.
Days later, he received a letter from his friend. He opened the letter and found a note that said, "You don't lose all your bets." Enclosed within the envelope was a check for $50,000 made out to the Hokie Club.
Such things do not happen accidentally.
"You don't really raise money; you raise friends," Moody said. "And then your friends give you the money. Friends will give to you.
"The real joy in this kind of work is getting to know the people outside. They become as close as your brothers and sisters in your family. I've been to a lot of weddings and too many funerals. I've had a lot of laughs, and we've cried together. There are lots of people right now that, if something happens in their family, I'm there. It's just the same as if it were a family member. The relationships you gain in this job, they are your extended family, and they're the ones that are loyal to a fault. I've had a good time with them."
Moody and Linkous have seen a lot of changes over the years, both within the athletics department and within the Hokie Club. In the 1970s and even into the 1980s, the Hokie Club would ask for $10 or $100. Enrollment eventually got to 4,000-5,000 members. Then in 1999 – Michael Vick's first year – membership exploded, particularly after people could not get tickets to the 2000 national championship game. As membership rose, so, too, did contributions.
The two of them saw the Virginia Tech Student Aid Association transform into the Virginia Tech Athletic Fund in 1989. They've been part of numerous fundraising campaigns, and worked for four different directors.
Moody, at one time, wanted to be the director. But a stint as the interim director after Carroll left to take a different position on Tech's campus convinced him that his skill set didn't fit that particular job. Moody isn't about going to meetings. He's about meeting people.
"Well, that's my fun part," he laughed. "Whether that's my strong point, I don't know. But it's what I enjoy. I didn't enjoy sitting behind a desk. The organization part of it just wasn't one of my strengths."
Moody and Linkous both love the donors, and they love their co-workers, but both feel it is time to retire. Linkous plans to spend time with her family and especially grandson Avery, while also going to Tech games just as a fan. Moody spent a lot of time away from his wife and three children over the years while traveling and wants to make up for some lost time. Plus, he's been dealing with some minor health issues of late.
"It's time for me to step out," he said. "It's a young person's game. To make this work as it should, you have to travel. People are not going to get in a car and come to Blacksburg and say, 'I'm not in the Hokie Club, but I want to give you $100,000. Will you take it?' You have to build that relationship by going to see them. Since I'm not on the road, the university and this office deserve someone who can and will do that."
They both agreed that they have loved coming to work over the years. As Moody said, "There is never a day that I dreaded coming to work."
They have seen the Hokie Club change and grow and become successful over the years, and both played integral roles. Now, Merritt faces the task of replacing two of his best "players."
Rest assured, it will not be an easy one.