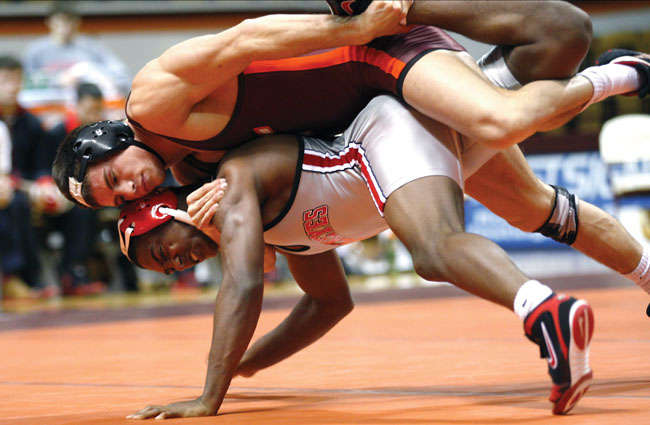 Pete Yates | R-Senior | Conyers, Ga.
There were many candidates for the magazine's wrestling athlete of the year, as the Tech wrestling program celebrated its best season in the school's history. But Pete Yates' year was a cut above the others.
Yates won an ACC championship, was named the ACC's wrestler of the year, and earned All-America honors at the NCAA Championships, where he finished in fourth place at 165 pounds. He went 18-0 in dual meets, including a 5-0 mark in ACC competition, and he led the team in bonus points and near-fall points.
At the NCAA Championships in Des Moines, Iowa, Yates advanced to the semifinals, where he lost to No. 2 seed and defending national champion David Taylor of Penn State. He came back to beat Iowa State's Michael Moreno in the consolation round and then lost in the third-place match to No. 4 seed Tyler Caldwell of Oklahoma State to finish in fourth. His fourth-place finish was the second-best in school history at the Championships. Brandon Glover finished third at the 1959 NCAA Championships.
At the ACC Championships in College Park, Md., Yates won his two matches and helped the Hokies to their first team title. After receiving a first-round bye, Yates recorded a fall at 1:48 over NC State's Nigel Jones, and then in the finals, he beat longtime rival Nick Sulzer of Virginia by a count of 4-2 to win the title.
Yates closed out his career with 131 career victories, a total that ranks second on Tech's all-time list behind Sean Gray. He won two ACC titles and was a two-time All-American.