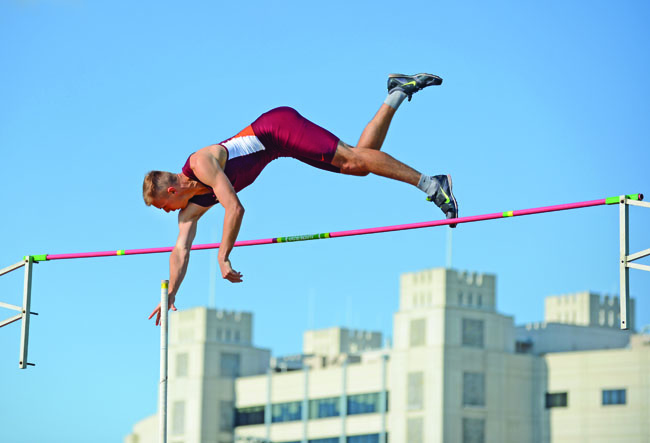 SOARING TO NEW HEIGHTS
Freshman Torben Laidig has the potential to be one of the best pole vaulters ever at Tech. The Germany native won the event at the ACC's indoor meet and later earned All-America honors at the NCAA indoor meet. He finished second at the league's outdoor meet behind teammate Stephan Munz and earned All-America honors at the NCAA outdoor meet as well. With continued progression, he could very well challenge the school record (18 feet, 2.5 inches) held by Yavgeniy Olhovsky (2009).
The Student-Athlete Experience
"In Germany, athletics and university studies are completely separate. I think it is great that it is so integrated here. The team spirit impressed me a lot when I first came to Tech. I am glad and proud to be part of the Hokie Nation and am thankful to the Hokie Club for its support."
-Torben Laidig | Freshman, Track & Field
"I love being a Hokie. Thanks for the support!"
-George Carter | Junior, Track & Field
The Donor File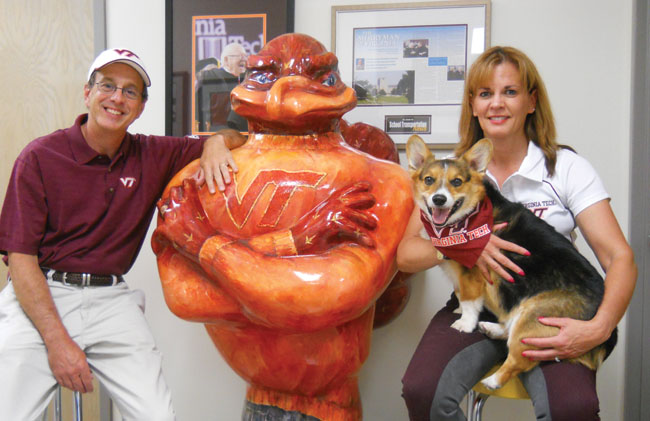 Dean & Kelly Farmer
Hokie Club Level: Golden (also an award-achieving Hokie Representative with the Lynchburg Hokie Club)
Currently Resides: Rustburg, Va.

What year did you graduate? Dean (B.A. in history, 1981); Kelly (MBA, 1994)
Family: Kelly (wife)

Q&A
Q: A Hokie is …
A: Any individual who is committed to assisting Virginia Tech achieve excellence.
Q: The Hokie Nation is real because …
A: Anybody who experiences Tech's rockin' "Enter Sandman" game-day Lane Stadium entrance quickly realizes the Hokie Nation is a powerful force.
Q: What is your best memory of Virginia Tech athletics?
A: The 2004 football win at Miami – Tech's first ACC championship. Winning an ACC title in a marquee sport was a dream come true for me.
Q: How did you get involved with the Hokie Club?
A: Originally, through my employment with the Virginia Tech Alumni Association back in the 1980s. Jack Prater and John Moody were treasured friends and mentors.
Q: What caused you to become a fan of Virginia Tech?
A: My big sister's admittance to the university right on the heels of Virginia Tech's dramatic 1973 NIT basketball championship.
Q: Do you have any game-day superstitions? If so, what are they?
A: Not a superstition, but I arrive very early and stay late! I have only missed one home game in the past 32 seasons.
Q: Describe your perfect day at Virginia Tech.
A: Winning.
Q: Do you have any tailgating traditions? If so, tell us your best.
A: Our tailgate group always celebrates PIG DAY – an all-day-and-night tailgate extravaganza when the Hokies play at Lane Stadium under the lights on Thursday nights.
Q: What motivates you to give back to help Virginia Tech athletics?
A: Immense pride in my alma mater and a strong desire to provide educational opportunity to the outstanding young men and women who represent and compete for our university at the highest collegiate level. I want our student-athletes to have the necessary resources to be successful and to win.
Q: I'm a Hokie Club member because …
A: I love Virginia Tech, and I want to win!
Q: My favorite Virginia Tech sports are …
A: Football, of course – and currently, women's soccer and wrestling. I like winning!
Q: My all-time favorite Virginia Tech football player is …
A: Bryan Randall – heart of a true Hokie champion!
Q: My all-time favorite Virginia Tech student-athlete from another sport is …
A: Right now, hoopster Will Johnston. I love his uncompromising effort and commitment to our team and university. All time, though, is my friend Dell Curry – just an exceptional basketball talent and a super nice guy.
Letter from Lu
Hokie Nation,
By the time you read this issue, the fiscal year will conclude, and it has been another successful fundraising year. The Athletic Endowment has grown to a record level exceeding $50 million, as Hokie Club members have endowed new scholarships. The earnings from these combined endowments will help pay the tuition and fees for the upcoming fall semester.
Let me thank each and every one of you for your support this past year. Your commitment as a Hokie Club member enabled more than 500 student-athletes to experience a life-changing opportunity this year in Blacksburg. As we move into a new fiscal year on July 1, our mission becomes more challenging. University tuition and fees will again increase this fall, and I am asking you to help us meet this challenge. Please continue your investment in our athletics program by not only renewing your membership, but also increasing your annual gift.
Virginia Tech's Graduation Success Rate was 90 percent, the highest among public schools in the ACC this past year. Men's swimming and diving and wrestling won our 17th and 18th ACC championships this year. The Hokies were one of only eight ACC member schools that won conference titles this year. The Hokies are probably headed for their highest Learfield Sports Directors' Cup finish, a metric which reflects a school's overall athletics excellence.
Your investment is paying good dividends. We are all involved to help our student-athletes and provide the best experience available both in the classroom and on their chosen courts and fields of play. Join me by increasing your gift this year. Thank you and GO HOKIES!!!!
Lu Merritt
Senior Director of Development for Intercollegiate Athletics
---

Virginia Tech alumni and friends now have the opportunity to purchase the Alumni Club Badge for The Greenbrier Classic held June 30-July 6 in White Sulphur Springs, West Virginia.
The Alumni Club Badge will provide tournament admittance to the Alumni Club for the entire week. This includes the practice rounds on Monday-Wednesday and the competition rounds Thursday-Sunday. To purchase the Alumni Club Badge, go to www.greenbriershopping.com/20grclalcba.html
Additional Instructions & Tips for Alumni Badges:
• RESERVED concert seating to both Maroon5 and Jimmy Buffet
• Alumni Badges are valid for the date listed on the ticket only
• Complimentary dry snacks and non-alcoholic beverages (Monday-Wednesday)
• Catered tailgate style food and non-alcoholic beverages (Thursday-Sunday)
• Alcoholic beverages available for purchase
• Enjoy special appearances by Virginia Tech coaches and alumni athletes (Frank Beamer, Chugger Adair, Ned Skinner, Carol Robertson, Kevin Dresser) and Vice President of Alumni Relations Tom Tillar, as well as Virginia Tech Athletic Fund staff in Howards Creek Lodge (located on the 17th Tee/12th Green)
• Climate controlled building
• Indoor and outdoor seating
• Upscale restrooms
• Cable televisions
• Private security
Facebook: facebook.com/hokieclub
Twitter: twitter.com/hokieclub