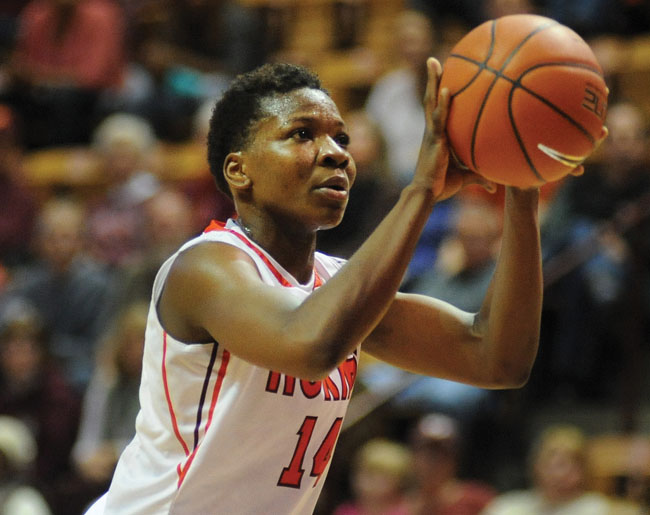 Uju Ugoka | Senior | Lagos, Nigeria
It was a record-setting year for senior Uju Ugoka, who snags the magazine's women's basketball athlete of the year honor while playing in her first, and last, full season with the Hokies.
Ugoka started in all but one game for Tech (29) and managed to set the school record for field goals made in a single season with 213, breaking the old mark set by Renee Dennis back in 1986-87. Ugoka's 533 points scored was the fifth-best output by a Hokie in a single season, while her 18.4 points per game average was fourth.
The 6-foot-1 forward was not just a scoring machine, as she also finished second on Tech's single-season list with 277 rebounds, 12 shy of the top spot, and her 9.6 per game average was the fourth–best for a season in school history.
In addition, Ugoka set a school record with 16 double-doubles throughout the season and tied the school record with six straight at one stretch. She averaged 9.2 rebounds per game for her career – the best ever mark at the school and a number that is a full rebound ahead of Tamie Edwards' 7.9 per game average (1980-83).
For her efforts, Ugoka, who finished seventh in the league in scoring and third in rebounds, earned second-team All-ACC honors by both the Blue Ribbon Panel and the coaches, and she was named to the All-ACC Academic Team.