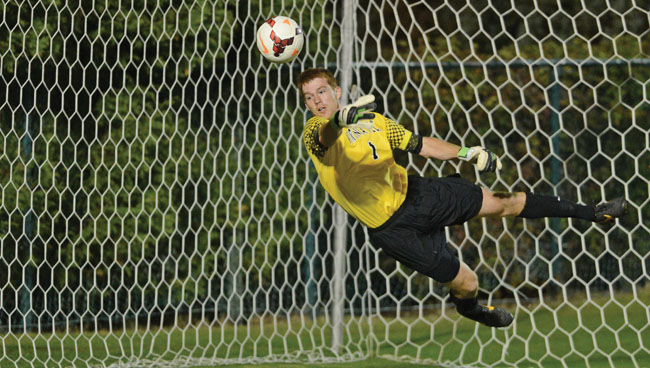 Kyle Renfro | Senior | Forest, Virginia
The Virginia Tech men's soccer team did not allow many goals this past season, and a lot of its success on the defensive end of the pitch came about because of the stellar play of goalkeeper Kyle Renfro.
Renfro started all 17 games for the Hokies and led the team with 1,642 minutes played. He recorded 88 saves and allowed just 23 goals. His 88 saves led the ACC and his save percentage of 79.3 percent ranked fourth in the league. More impressively, he recorded five shutouts.
Renfro made a career-high 10 saves on two occasions this year in ties against then-No. 16 Clemson and then-No. 19 Virginia. He also made nine saves in a loss to then-No. 5 Maryland. In addition, he saved two penalty kicks this season.
Following the season, Renfro earned first-team All-ACC honors for his efforts.
Renfro also took care of things in the classroom. He was named an NSCAA Scholar All-American, becoming the first Tech player to be named a first-team NSCAA Scholar All-American since Dustin Dyer in 2005. To be named to a Scholar All-America team, a student-athlete must have at least a 3.30 cumulative grade point average (on a 4.0 scale) throughout his or her career, start more than 50 percent of all games and be a significant contributor to the team.
Renfro departs Tech ranked third in career saves with 305 and third in shutouts with 14.