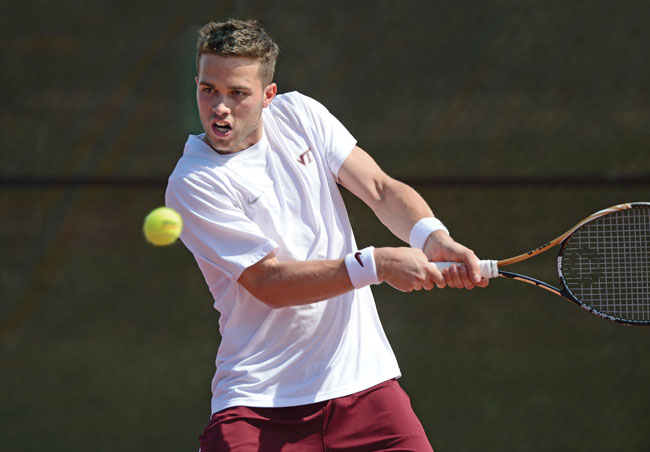 Amerigo Contini | Sophomore | Parma, Italy
The Virginia Tech men's tennis program made the NCAA Championship for the eighth consecutive year, and while the Hokies used the talents of a lot of good players to make NCAA play this season, they got a particularly strong season from sophomore Amerigo Contini.
Contini, who was ranked No. 20 national in the Intercollegiate Tennis Association rankings heading into the NCAA Championship, followed an outstanding freshman campaign – one in which he was named the ACC Freshman of the Year – by going 19-8 overall in dual matches. He played all his matches at the No. 1 spot for the Hokies.
Contini played well in the very difficult ACC, going 8-4 against league opponents and ultimately earning first-team All-ACC honors. For the season, he went 13-6 against ranked opponents, including six opponents ranked in the top 30. Including fall competition, Contini finished with a 26-11 mark.
Contini was the only Hokie to qualify for the NCAA Singles Championship, where he won a match against Illinois' Tim Kopinski before seeing his season come to an end in a second-round loss to Florida's Florent Diep in three sets. Contini became one of just six Hokies in school history to qualify for the singles competition in multiple seasons, following his appearance last season.