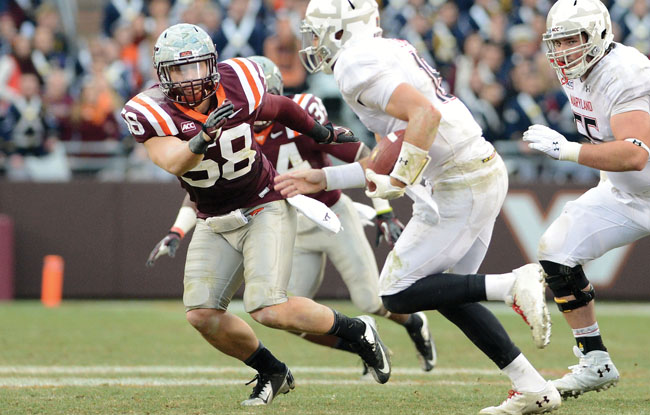 Jack Tyler | R-Senior | Oakton, Virginia
The Virginia Tech football team featured an outstanding defense this past season, one that ranked in the top 11 nationally in five different categories, including fourth in total defense (283.6 ypg). That defense had several quality players, but Jack Tyler really served as the heart and soul of the unit.
For the second consecutive season, Tyler led the Hokies in tackles, amassing 100 (35 solo), including 11 for a loss. The 11 tackles for a loss ranked tied for second on the team. He also recorded 4.5 sacks and 12 quarterback hurries, and he forced a fumble.
Tyler had no fewer than four tackles in any game this past season. He finished with 11 tackles on four separate occasions, and his 11 tackles, including two for a loss, and a sack against Maryland probably served as his best game.
Tyler finished with 286 tackles in his career (123 solo), including 32.5 for a loss, and 8.5 sacks.
Following his senior season, Tyler earned second-team All-ACC honors by both the league's coaches and by the Atlantic Coast Sports Media Association (ACSMA). He also was a semifinalist for the Burlsworth Trophy, which goes annually to the top player who began his collegiate career as a walk-on.