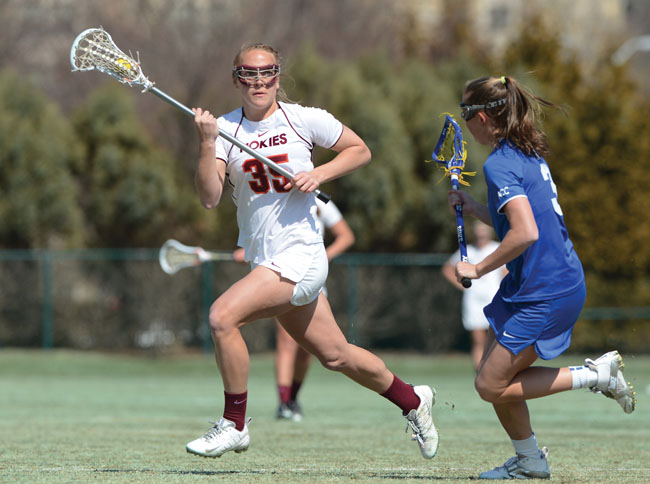 Megan Will | Junior | Bel Air, Maryland
The 2013 magazine's choice for lacrosse athlete of the year did nothing but improve upon her numbers during her junior campaign, all but solidifying her spot as the 2014 selection as well. Megan Will led the Hokies in all major offensive categories and has certainly set herself up for a run next season at her cousin Dawn's all-time records.
Will scored 48 goals, the fourth-most ever in a single season at the school, and dished out a team-high 17 assists to push her point total to 65, also the fourth-most in a single season at Tech. Her totals included a team-high seven free-position goals and two game winners.
Of her team-high 12 hat tricks during the year, six of them were against ACC competition, which included ending the season on a four-game streak and scoring at least three in nine of her last 10 contests.
Dawn Will (1997-2000) set Tech records for career goals (186) and career points (221), and Megan enters her senior year with 120 and 156, respectively. An average season will easily see her finish in the second spot in both categories, as she needs 20 goals and 32 points. She's already passed Dawn in career assists and could finish in the top five at Tech in that category as well.