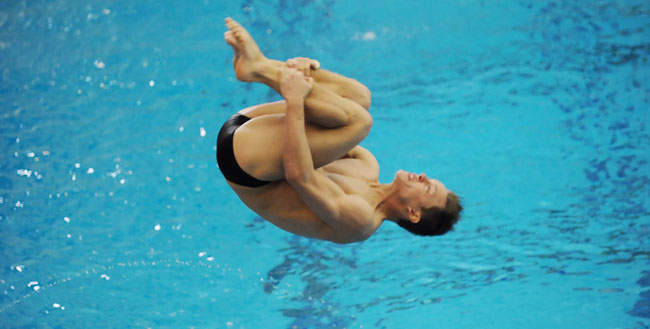 Ryan Hawkins | Senior | Charlotte, North Carolina
As he prepares to dive into the next phase of his life, Ryan Hawkins can derive plenty of satisfaction in looking at the Virginia Tech record books, seeing his name plastered everywhere and understanding his impact on the Hokies' swimming and diving program.
Hawkins' final year ended in grand fashion, as the young man earned three All-America honors at the NCAA Championship. Thanks largely to his performances, the Hokies finished in 20th place nationally, and that finish came on the heels of the Tech men's team claiming the ACC title at the league meet for the first time in program history.
At the NCAAs, Hawkins finished in fifth place in the platform event with 440.85 points, 10th place in the 1-meter event with 363.35 points and 12th place in the 3-meter event with 408.40 points. He earned All-America honors in the platform and honorable mention All-America status in the other two diving events.
Hawkins got the Hokies out to a quick start at the ACC Championship with two bronze medals and a fifth-place finish during the diving competition held a week before the swimming portion of the Championship. He finished third in the platform and 3-meter events and fifth in the 1-meter. In his career, he scored points in every single diving event at the ACC Championship.
Hawkins got it done in the classroom as well. The architecture major made the All-ACC Academic Team for swimming and diving all four years.
Hawkins owns the school record in the 3-meter diving event, and he closed his career with seven All-America honors – the most in school history by a Tech diver.