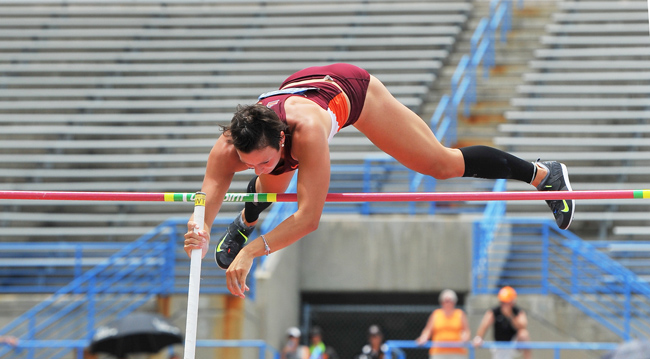 Martina Schultze | Junior | Uhingen, Germany
Very few Tech student-athletes have dominated in their craft the way in which Martina Schultze has dominated in the pole vault the past three years. And this year may have been her best yet.
Schultze finished in third place in the pole vault at the NCAA Outdoor Track and Field Championships held in Eugene, Oregon, in mid-June. She cleared 14 feet, 3.25 inches (4.35 meters), but could not clear 14 feet, 5.25 inches to advance. Still, she earned first-team All-America honors, giving her six All-America nods during her career. Only Kristi Castlin, who was a seven-time All-American from 2006-09, earned more during a career at Tech.
Schultze won both pole vault titles at the ACC's meets this season. She claimed gold during the outdoor season at the league meet held in Chapel Hill, North Carolina, in April, hitting a mark of 14 feet, 4.25 inches (4.38 meters) to secure the championship. She became just the second woman in ACC track and field history to win three straight outdoor titles, and the title marked her fifth straight in ACC meets.
At the ACC indoor meet held in Clemson, South Carolina, in late February, she claimed gold with a mark of 14 feet, 5.25 inches (4.40 meters). Duke's Megan Clark hit the same height, but fell to second place based on misses. The vault was the best of the season for Schultze.
Schultze earned All-America honors at the NCAA Indoor Track and Field Championships in Albuquerque, New Mexico, finishing in seventh place after a mark of 14 feet, 1.25 inches (4.30 meters).
Schultze has five ACC titles, six All-America honors and the school record in the pole vault, a mark of 14 feet, 7.25 inches (4.45 meters) that she set last year.