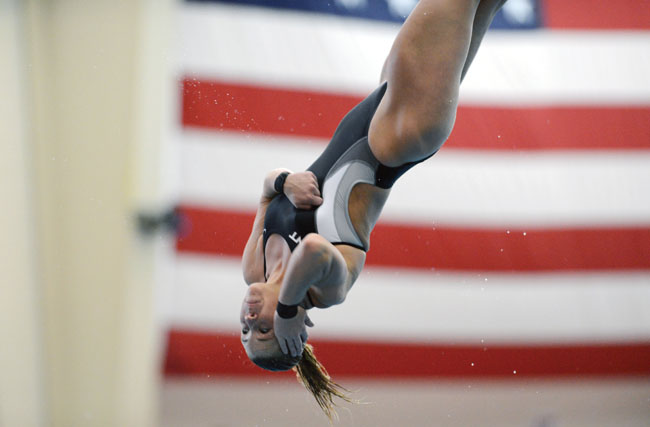 Kaylea Arnett | Junior | Spring Hill, Texas
Naming an athlete of the year for women's swimming and diving may have been the easiest of chores. Of course, a young woman who earns three All-America honors tends to make things easy.
Kaylea Arnett had one of the greatest seasons of any Tech student-athlete, with her trio of All-America honors in diving at the NCAA Championship. Her best finish came in the 1-meter event, where she scored 332.70 points to finish in third place. The bronze-medal performance marked the best finish ever by any Tech swimmer or diver at the NCAAs.
She went on to claim honorable mention All-America honors in two other events at the NCAA Championship. She scored 366.05 points to finish 10th in the 3-meter event, and she scored 266.80 points to come in 15th in the platform event. Behind her performances, the Tech women's team finished 24th overall at the national meet.
Before the NCAA meet, Arnett dominated on the conference level, being named the ACC Women's Championship Most Valuable Diver for the third straight year. She became just the third athlete in ACC history to capture the award three times.
Arnett won gold in the 1-meter event at the ACC meet for the third straight year, and she also won the title in the 3-meter event. In the 1-meter, she led coming out of the preliminaries and then posted a score of 355.65 points in the finals to break her own school record and top the second-place finisher by 20 points. In the 3-meter, she dominated in the finals, scoring 395.95 points to break her own school record in that event. She also became the first Tech female to win the 3-meter event at the league championship meet.
For good measure, she also finished in third place in the platform event at the ACC meet with 311.75 points. She helped Tech claim fifth place as a team.
Arnett won the league's overall Women's Diver of the Year award as well, giving her two of this particular award. She also won this honor as a freshman.