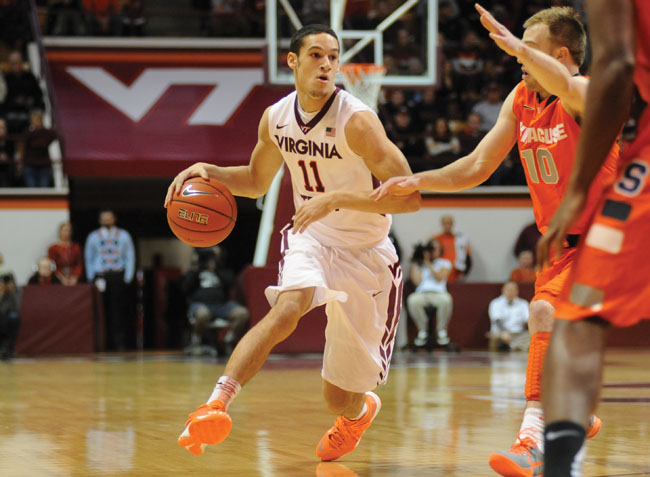 Devin Wilson | Freshman | McKees Rocks, Pennsylvania
There weren't a lot of positives that came out of the men's basketball season for the Hokies, who finished in last place in the ACC for the third consecutive year. But Devin Wilson played quality basketball for much of the season and was rewarded with a spot on both of the ACC's All-Rookie Teams.
Wilson started all 31 games this past season and enjoyed a record-breaking first year for the Hokies, snapping Tech's freshman records for minutes played (1,081), total assists (148) and free throws attempted (185). Wilson's 1,081 minutes broke the previous record of 1,024 held by former Tech great Dell Curry, who set the mark during the 1982-83 season (34 games).
Wilson broke the record for assists in a season by a freshman when he dished out five assists in the Hokies' 57-53 loss to Virginia on Feb. 18. Those five assists gave him 114 for the season at the time and enabled him to break the old record of 113 set by Hank Thorns during the 2007-08 season. He finished with 148 for an average of 4.8 per game, a number that ranked third in the ACC.
Wilson broke the Tech freshman record for free-throw attempts in the Hokies' 60-56 loss to North Carolina on March 1. He went 8 of 12 from the line in that game and scored 15 points. He finished the regular season with 178 attempts, besting Dale Solomon's previous record of 164, which came during the 1978-79 season.
Wilson averaged 9.2 points, 4.8 assists and 3.2 rebounds per game, while shooting 37.3 percent from the floor and 65.9 percent from the free-throw line. For his efforts, he was named to the league's two all-freshman teams at the conclusion of the regular season – one by the Atlantic Coast Sports Media Association (ACSMA) and one by the league's coaches. He became one of just four players in Tech history to earn a spot on an ACC all-rookie squad.