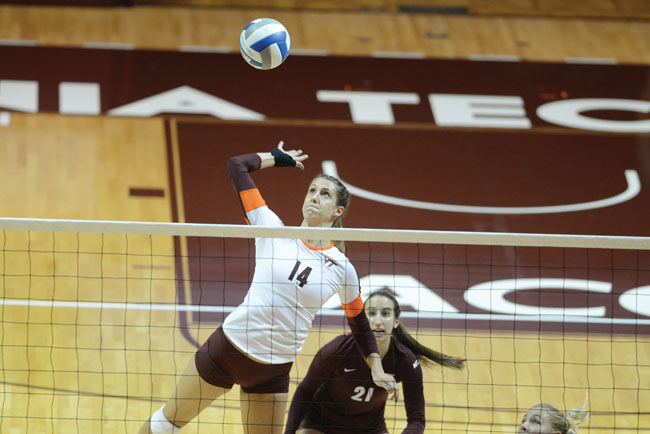 Victoria Hamsher | Senior | Nazareth, Pennsylvania
The Virginia Tech volleyball team won 22 games this past season, including 10 in the ACC, and Victoria Hamsher played a major role in that success.
Hamsher earned first-team All-ACC honors after a season in which she recorded an attack percentage of .405 – a percentage that led the ACC and ranked 21st nationally. The percentage is also a single-season record at Tech.
In addition, Hamsher averaged 2.66 kills per set, tallied 21 aces and 73 blocks. She recorded double digits in kills 18 times this season, including a career-high 19 versus Florida State. The Hokies upset the then-No. 18 Seminoles 25-21, 20-25, 25-21 and 25-15 in their only win over a ranked team this past season.
Hamsher then earned honorable mention All-America honors this season from the American Volleyball Coaches Association. It marked the first time in her career that she earned All-America honors.
Hamsher departs Tech having etched her name in the school's record books. She ranks second in career attack percentage (.338), second in block assists (376) and fifth in career blocks (425).