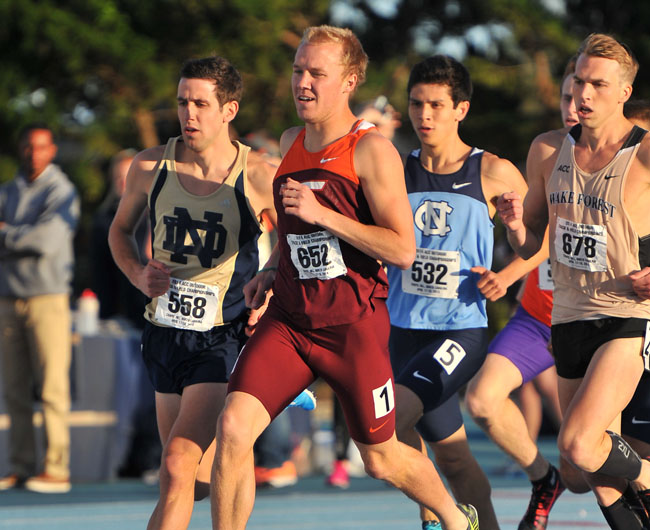 Grant Pollock | Junior | Richmond, Virginia
Distance runner Grant Pollock quietly enjoyed a banner season for the Tech men's cross country and track and field teams, claiming two gold medals during the academic year in two separate events and earning two All-America honors in two different events as well.
Pollock was the last competitor for Tech this season, competing in the 1,500-meter race on the final day of the NCAA Outdoor Track and Field Championships held in Eugene, Oregon, in mid-June. He finished in sixth place in a time of 3 minutes, 40.41 seconds, coming just 1.33 seconds from being the gold medalist. Still, his finish enabled him to earn All-America honors in the event.
His other All-America nod came at the NCAA Indoor Championships held in Albuquerque, New Mexico, in March. He participated as part of the Tech men's distance relay team, and that group came in sixth in a time of 9:42.82. The quartet of Pollock, Lee Degfae, Tihut Degfae and Martin Dally earned All-America honors as a result.
During the indoor season, Pollock won the gold medal in the mile at the ACC Indoor Track and Field Championships held in Clemson, South Carolina, in late February/early March. His time of 4:09.30 was just 28 hundredths of a second better than that of Notre Dame's J.P. Malette and enabled Pollock to win his first ACC gold medal.
During the outdoor season, Pollock won the 1,500-meter race at the ACC Outdoor Championships held in Chapel Hill, North Carolina, in late April. His time of 3:50.34 edged Graham Crawford's of NC State by four tenths of a second. The win marked his second straight in the event, as he defended the title he won in 2013.
Pollock also competed for the cross country team. He finished 33rd at the ACC Championships and 28th at the NCAA Southeast Regional.