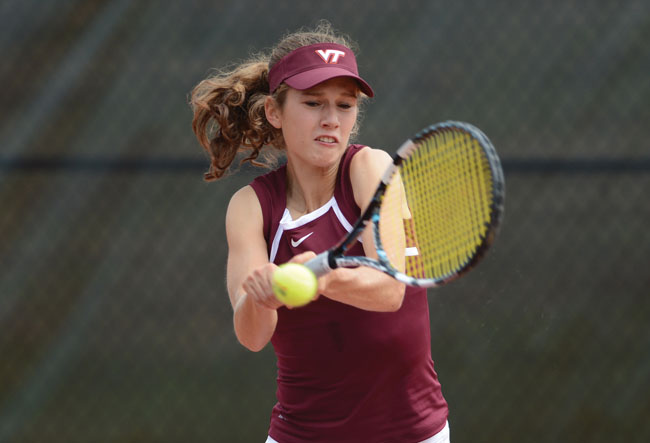 Francesca Fusinato | Freshman | Feltre, Italy
It didn't take long for freshman Francesca Fusinato to make an impact on the Virginia Tech women's tennis program. In her first collegiate season, she spent the majority of her playing time at the No. 1 spot in the Hokies' lineup.
Fusinato wasn't intimidated by the competition in the difficult ACC, finishing 4-4 in conference matches. In dual matches this past season, she went 12-5, and including fall competition, she was 18-6. She went 8-2 out of the No. 1 spot and 3-3 at No. 2.
Following the season, she earned third-team All-ACC honors for the Hokies, who went 13-13 this season. She spent the majority of the spring ranked in the Intercollegiate Tennis Association rankings, finishing at No. 120 out of 125 ranked players.
Fusinato's signature win came against then-No. 65 Maria Belaya of William & Mary. Her 6-4, 6-1 win over Belaya helped the Hokies to a 7-0 victory over the then-No. 43 Tribe.
Fusinato also went 11-9 in doubles competition this past season. She and Raluca Mita teamed to go 7-4, including a 4-3 mark in dual matches and 3-1 in tournament action.